A post about Doctor Who, viewer "entitlement" and sheer bloody stupidity. Warning… I get pretty ranty in this one, but not without good reason.

First of all, the good news. Doctor Who is back!
YEAAAAH!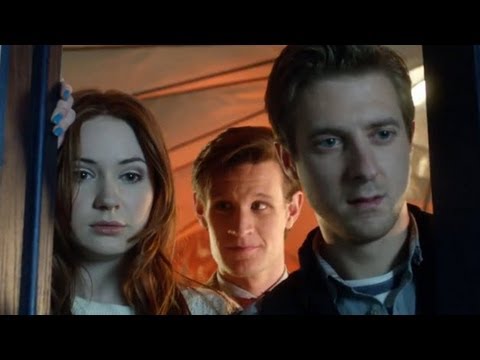 BBC1 starts showing it on Saturday September 1st; that also appears to be the date that BBC America will show it, but the US being the US, that's probably a Tuesday or something. Stupid datelines.
Anyway, it's been announced today that the ABC (the Australian national broadcaster) will show the new series on a one week delay, so it'll still go out on a Saturday night.
Hurrah, right?
Well, not for some. Now, I've got to give a little perspective here. I've been a fan of the series for an exceptionally long time now. How long? Longer than some journalists I work with have been alive, a number that scares me from time to time.
I can recall times when we'd wait months for new episodes, and the ABC would show them at odd times to boot. The one saving grace was that it was one of those series that the ABC would repeat a lot — so much so, that, prior to mass VHS/DVD releases, a lot of UK fans got to watch old episodes via Australian fans taping them off air!
So from my perspective, one week isn't too bad… but I'm starting to think I'm rather alone in that perspective. Rather than applaud the national broadcaster for fast-tracking the next series, the opinions I've seen on social media seem to reiterate the same rather tired point; that one week is "an eternity" or "too long". That the ABC has "failed" because it's transmitting the episodes a week after the UK does.
There is one single aspect in which I'll agree that one week is too long, and it's this: After a week, the odds that somebody I know will spoil major sections of the plot line is pretty high. In some cases, yes, they're folks in the UK and US who've seen it legitimately, but in a lot of cases, it's people who've accessed it illegitimately. Not getting into the piracy/crime/theft/civil end of things; people do this. It happens. And then, because people like watercooler talk, they hit Twitter and Facebook and public conversation, and they talk about it. Because people who do spoil things like that are jerks.
Still, the idea that simply having to wait a week to see a TV program is "too long"? That seems massively self-entitled to me. I'm not saying that I don't have my own impatient moments — and Who is one of those things that I'm insanely impatient for — but one week isn't that damn much.
I did have a brief discussion with one journo who posited that perhaps 24 hours would suffice. I'm not naming names here, because honestly it's not about having a go at him per se, but even that won't satisfy some folks; it's actually what the ABC did with the last Christmas special. I wrote that up, back when I was editing Gizmodo, and you know what the first response was?
"In this day and age that we still have to wait for overseas shows to get on Aussie TV is a joke. Free view has failed because are networks have no idea about good programming. I know where I'll be getting this from and it won't be waiting to watch it on the ABC."
24 freaking hours. That totally ignores the fact that if it were simulcast, it would go out at around 6am on a Sunday. OK, true, I'm enough of a Who tragic that I might get up early on a Sunday and watch it then if I could, but the total audience at that time would be a fraction of its Saturday night peak, and it'd be financial suicide for the ABC to do that!
But it looks like exactly the same attitude still runs pretty rampant, and as a "victimless crime", no less.
I don't entirely agree with that assessment; while the ABC isn't reliant on viewing figures for actual ad dollars, it does have to justify its existence. If the audience for a show doesn't tune in because they've pirated it, what do you think that does to the viewing figures? What happens when the broadcaster wants to maintain its budget, but the viewing figures for that series that it spent money getting a week later aren't what they could or should have been? Hmm?
But really, the "entitled" argument is pretty daft anyway, and it easily falls apart. As far as I can see, it basically runs like so…
"Oh, I really love PROGRAM. But it's not on STRAIGHT AWAY here. How dare TV networks run as a business??? It SHOULD run straight away here."
But there are thousands of PROGRAMS. For everyone who loves, say, Game of Thrones. Should sports events be shoved aside to make space in the schedules for it? What about Breaking Bad? Mad Men? True Blood? Doctor Who? Insert-Name-Of-Your-Favourite-Series-Here? If everything went to air all at once, we'd need a good thirty or so channels to cover it — and still people would complain, because it's near impossible to satisfy everyone's contention of what "good programming" actually is. As a country of 23 million or so people, outside the remit of pay-tv, I don't entirely think there's a big enough audience to support thirty channels. Even if there were, people would bitch about paying for (or watching ads on) the channels they didn't like or couldn't see the point in.
I also don't see quite the same attitude with movies. Yes, people do pirate movies — it happens. But if it's a week delayed here, that doesn't seem to be too bad based on the attitude of most people I've talked to — and even if they are pirating it, they're not hiding behind "I had to wait too long" type attitudes. They're pinching it because they don't want to spend the money on it!
That's not to say that some channels don't stuff around with how and when they show specific programs — they genuinely do, and that's annoying. Annoying, though. Not life threatening, and not even something that anyone should feel entitled to.